Fungal Behaviour | group exhibition | 2022
The Talleyrand, Manchester
Artists: Jacob Cartwright, Emma Dibb, Jane Lawson, Nick Jordan, Louis Neale, Lara Ögel, Chester Tenneson
Titled after a term used in behavioural ecology, Fungal Behaviour is a group exhibition of seven artists, exploring the mysterious world of mycelial networks and fruiting fungi. From the surreal to the sublime, the work includes painting, drawing, film, photography, text, sculpture and organisms.

Chester Tennyson shows two new paintings, John and Chicken in the Woods, continuing his text-based investigations into the idiosyncratic nature of commonplace objects and language. Titled after the Greek god of fertility, Jacob Cartwright's painting Priapus depicts wilting stinkhorn mushrooms and a green woodpecker, overseen by a roughly hewn portrait of D.H. Lawrence in a stump of wood. Centred on symbiotic networks of mycelium in the soil, Emma Dibb presents a series of ecological and personal texts, pressed into the fruiting bodies of Artist's Conk fungi. Nick Jordan's film, Mushroom Hunting in the Forest, features the artist foraging for fungi from atop a hunter's viewing platform, accompanied by the song of women gathering mushrooms in the Congo, with bursts of parasol mushroom spore prints. Louis Neale displays his new sculpture and spore prints, Daldinia Concentrica, made from foraged King Alfred's cake fungus and embedded into a heap of local clay. Jane Lawson presents Where Do We Go Now?, which includes a diagram illustrating Suzanne Simard's research into fungi-tree inter-communication, learning & memory, plus documentation of Lawson's use of fungi used to 'detoxify' neoliberal texts on the global financial system. The exhibition features two interrelated works by Lara Ogel: what (else) grows in the dark, is an edited montage of found footage of humans from around the world documenting and handling mushrooms. The short is reflective of our conflicted relationship to nature, responding to conditions that are both political and personal. Ogel's The Benefits of Digesting Oneself is a reflective essay on the artist's research into working with fungi, with the full text available to read here.
The exhibition is curated by Nick Jordan, and includes a new work from his Sporetrait series, plus mushroom illustrations from the Yearbook of the United States Department of Agriculture 1897.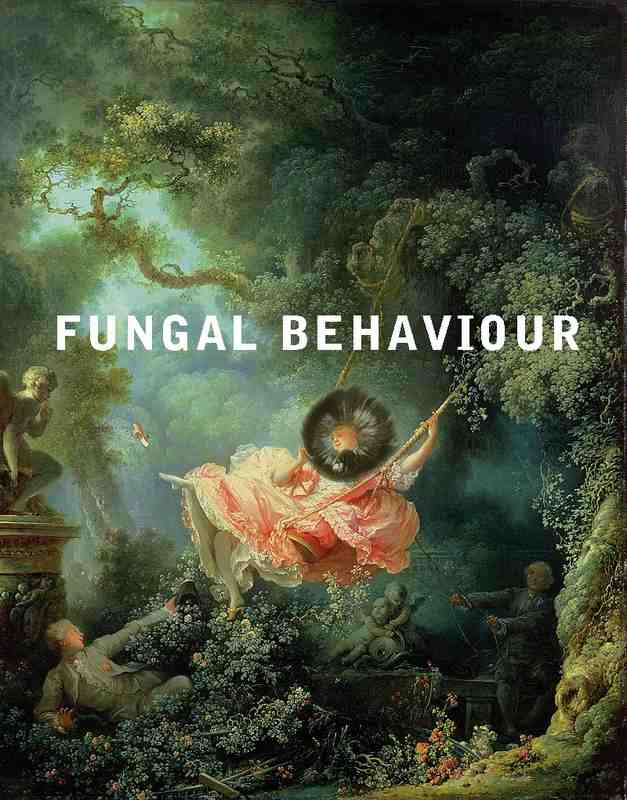 The exhibition will also presents a series of accompanying events:

Workshop: An Introduction to Growing Oyster Mushrooms
Fungal Behaviour artist Jane Lawson will give an introduction to growing oyster mushrooms on straw. Participants will leave with an inoculated oyster mushroom grow bag, which in three to four weeks will fruit with a beautiful crop of oyster mushrooms.

Illustrated Talk: 'Mycology and Art: An Interrelated History'
Dr Nathan Smith will give a talk on the interrelated history of mycology (the study of fungi) and art in the UK. He will explore how mycologists have contributed to art, and vice versa, and delve into the many instances of personnel conflict, fraud, and dedication that pepper its lively history.

Film Screening: 'Mantango, Attack of the Mushroom People'
1963, 89 mins., directed by Ishirō Honda
A rare screening of a classic from Japan's early-Sixties horror boom. Acclaimed as 'one of the most atmospheric horror films to ever come out of Japan', the film follows the exploits of a group of shipwrecked survivors as they are transformed by mutagenic mushrooms.
Trailer


Wild Food Forage
A 2 hour circular walk from The Talleyrand to Highfield Country Park, Levenshulme, with a foraging expert, identifying edible plants and mushrooms, ending with a taster session of fungi-infused preserves, drinks and wild food straight from the hedgerow. Led by www.foragebox.co.uk