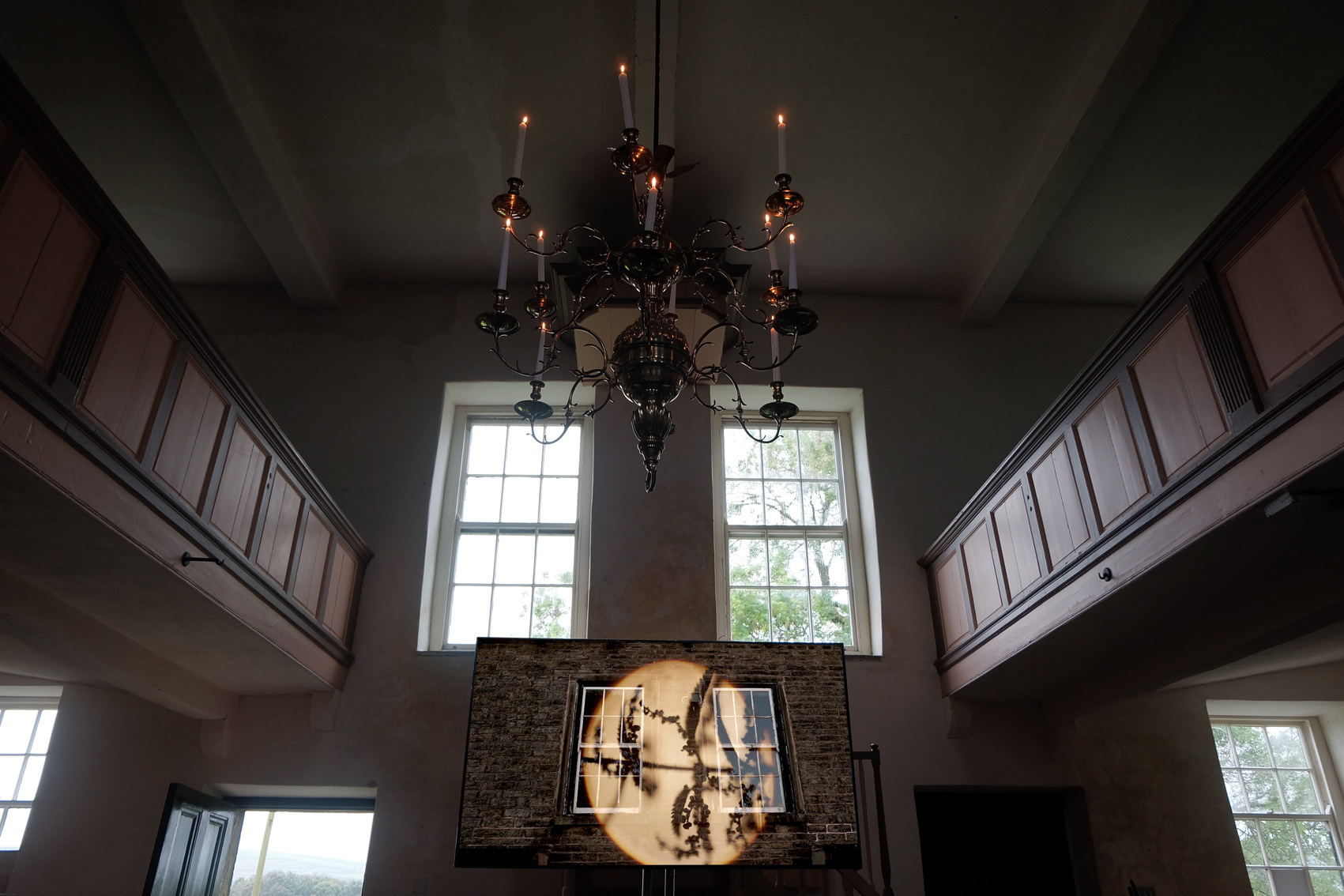 Jacob Cartwright & Nick Jordan
Larksong | 2023
For the British Textile Biennial 2023, collaborative artists Nick Jordan and Jacob Cartwright present a new film installation, Larksong, in Goodshaw Chapel, a nonconformist Baptist chapel established by textile workers and farm labourers in 1760 and now owned by English Heritage.
With the chapel as a central leitmotif, the film captures the surrounding landscape of cloughs, rivers, mills and moorlands, laced with the remnants and imprints of the textile workers and industries that shaped the environment.
Larksong features a new poem by Emily Oldfield, written from the perspective of a chapel pew. Connecting to an emotional, tactile sense of memory, rather than the language of history, the poem weaves together social, industrial and ecological themes; ruminating upon the changing landscape, social mores and working practices that have been witnessed since the founding of the chapel.
The musical score to Larksong has been created by musicians and artists David Chatton Barker, Mary Stark, Sam McLoughlin and Bridget Hayden. In addition to traditional instruments, such as harmonium and recorder, many of the sounds are derived from adapted spinning wheels, hand looms and drop spindles. The film also features their visual projections, created from foraged plants, gathered raw wool, stitched 16mm film and woven textiles. Larksong also features songs they have composed for the film, inspired by 18th century manuscripts from the Larks of Dean choir, and with lyrics from gravestone inscriptions found in the chapel's burial grounds.
...
Larksong, Goodshaw Chapel installation, British Textile Biennial, 2023
Upstairs in the chapel, Cartwright and Jordan present a new series of printed calico fabrics, hung from the coat hooks that line the chapel's walls. Printed in woad, which was historically used to give 'slave cloth' its distinctive hue of indigo blue, the images are all local wild plants with historic ties to textiles production, including fibrous plants such as nettle and flax, and those traditionally used in natural hand dyes, such as hawthorn, Saint John's wort and weld.
The printed images are sourced from historic manuscripts: Botanologia: The English Herbal, or history of plants, William Salmon, 1710; Orbis Pictus, Johann Amos Comenius,1658:
...
Larksong, Goodshaw Herbal
The installation also includes sculptural textile works made with grass roots. Sown directly onto the chapel's horizontal gravestones, the root-bound grass fibres form a tapestry of interwoven, reverse inscriptions:

...
Larksong, Inscriptions from the Root Bound Soil

Larksong, Live Performance, click here for images and video documentation


Larksong / exceprt #1
Larksong / exceprt #2
Larksong / exceprt #3
Larksong teaser: David Chatton Barker & Sam McLoughlin sonically hand-carding wool
Commissioned by the British Textile Biennial and English Heritage

29 SEPTEMBER - 29 OCTOBER 2023
Goodshaw Chapel, Goodshaw Ave, Crawshawbooth, Rossendale BB4 8QB